Hand Weave Stainlee Steel Aviary Rope Mesh
Product Detail
Product Tags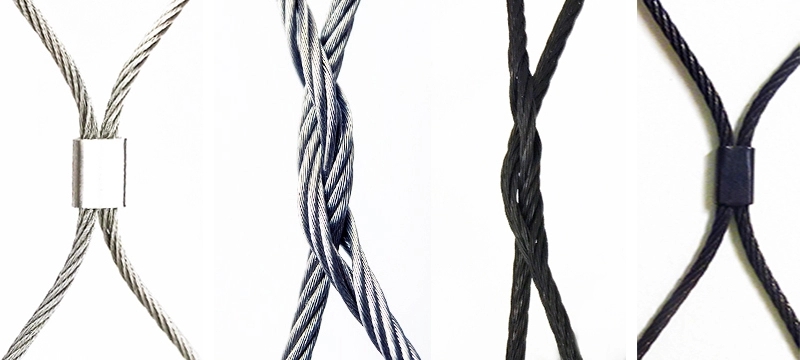 Gepair Stainless Steel Wire Rope mesh, aviary mesh is suitable for a variety of large birds varieties, such as: Crane, Flamingo, Red-crowned Crane, Peacock, Ostrich, Pheasants and so on, stainless steel aviary mesh by hand woven, is perhaps the best metal mesh for parrot housing because it is bird-safe, strong, lightweight and rust proof. This makes it ideal for aviary mesh panels and bird cage wire. Stainless steel wire rope mesh with a good flexibility, protect bird feathers from harm, is applied to a variety of large bird aviary cage shape design.With its good flexibility, it is also called as flexible wire rope nets, clear mesh, and can be applied to a variety of cage shape design. It's beautiful, eco-friendly, resistant to bite, good ventilation, do not need any maintenance, more than 30 years service life.
When planning out your aviary, ensure that the aviary netting or wire is large enough to cover your aviary panel. Measuring beforehand and planning ahead is essential.
Rope diameter, material and mesh aperture size can all be customized. We will produce according to your requirements. We use SUS304/316 stainless steel, which has strong corrosion resistance and tensile strength. The rope is made with multiple cores twisted together, the structure is: 7*7 cores (rope diameter 1.2mm, 1.6mm, 2.0mm, 2.4mm) and 7*19 cores (rope diameter 3.0mm 3.2mm).
| | | | |
| --- | --- | --- | --- |
| Material | Wire Cable Dia | Mesh Open Size | Norninal Break(lbs) |
| Stainless 304/316/316L | 5/64″ | 2″ X 2 " | 676 |
| Stainless 304/316/316L | 1/16″ | 2″ X 2″ | 480 |
| Stainless 304/316/316L | 1/16″ | 1.5″ X 1.5 " | 480 |
| Stainless 304/316/316L | 1/16″ | 1″ X 1 " | 480 |
| Stainless 304/316/316L | 3/64″ | 1″ X 1″ | 270 |
---
---
Previous:
stainless steel bird cage wire mesh
Next:
---
Write your message here and send it to us